Cloud Accounting Service in Malaysia
Why online accounting is good for business
So what is the cloud Accounting?
The cloud is a platform to make data and software accessible online anytime, anywhere, from any device.
You can use cloud-based software from any device with an internet connection. Online accounting means small business owners stay connected to their data and their accountants. The software can integrate with a whole ecosystem of add-ons. It's scalable, cost-effective and easy to use.
In the cloud, the business owner no need to install and run applications over a desktop computer with limited device accessibility. Instead, you pay for the software by monthly subscription and use it anytime, anywhere with internet connection.
Five ways cloud accounting benefits your business
Run your business from anywhere
No more downloads install or desktop software updates. Sharing files is easy, and version control issues go away. You have a clear overview of your current financial position, in real-time.
User access fexibility
Multi-user access makes it easy to collaborate online with your team and advisors. All users can access the software at the same time and unlimited users with no extra cost.
Always on the latest version & backup
With cloud accounting software you can be up and running quickly, and future updates and upgrades are rolled out automatically at no extra cost. Cloud will automatically back up all data on a daily basis.
Protect your business data
Cloud security is world class and is the more secure than any on-premise, in-house option. Those who provide cloud services and host software on the cloud have better digital and physical security than most businesses could ever afford. When you move your accounting software to the cloud you benefit from security measures that identify, intercept and prevent malicious attacks and threats to your data before they take effect.
Affordable and cost saving
Upfront business costs are reduced – version upgrades, maintenance, system administration costs and server failures are no longer issues. Instead, they are managed by the cloud service provider. It's perfect choice for start-up or new business.
Problems With Traditional Accounting Software
Xero accounting software is a cloud based program built to help businesses record financial entries and manage accounting operations smoothly, efficiently and more importantly, cost-effectively. It offers a real-time view of business cash flow, empowering you to see up to date financials online from anywhere at any time and any device such as Mac, tablet, PC or your phone. With this software, you can perform and streamline your accounting and bookkeeping operations without any limitation. Check out the video for overview.
Online Invoicing
You can invoice a client as soon as the work is complete, even when you're still on the job site. You'll be notified when the invoice has been received and viewed. This considerably shortens the time to get paid.
Inventory
Track inventory, control stock, and easily add items into invoices and orders. Xero lets see your profit margins by items so you can make informed decisions.
Quotes & purchase orders
Streamline your sales process with professional online quotes that you can prepare and send in minutes. Your customers can accept, decline, or comment online. Simplify your purchasing process and easily keep track of orders.
Direct Bank Feeds
Xero receives automatic bank feeds from selected banks and financial institutions so you no longer need to download and import bank statements to get transactions into Xero.
Cloud Collaboration
You and your advisor can work from the same set of data at the same time. This allows them to quickly review your financials, spotlight opportunities, identify potential concerns and advise you in real-time.
Unlimited Users
Every Xero plan comes with unlimited users. Invite your team members or your accountant to collaborate with you.
Mobile Access
You're always on the move and Xero moves with you. You can access accounts, check balances, upload receipts and invoice customers from your smartphone or tablet –anywhere you do business.
Fixed Assets
Track business assets for accounting purposes, and work with your accountant or bookkeeper to manage their depreciation and disposal.
Elevating your business and people through simplified plans for cloud accounting service, managed-payroll and benefits – all in one place.
Frequently asked Questions.
There are three pricing plans available:
Starter: Suitable for contractors/freelancers who have a low number of monthly transactions — a maximum of 5 invoices, 5 bill payments, and 20 bank transactions.
Standard: Suitable for most small businesses — unlimited monthly invoices, bill payments, and bank transactions.
Premium: Includes support for multiple currencies.
Xero's Starter plan comes in at a low $20 a month, and whilst this service is limited in terms of the number of invoices and payments you can send, for small businesses it still offers the same smart expense management and tracking, configurable reports, budgeting and unlimited users, as the more expensive plans.
If you need greater invoicing, billing or banking capabilities, the Standard plan, at $30 a month, totally exorcises those problems; the Premium plan upgrades your support for multiple currencies. The pricing table as below is for reference purpose only. Please refer to Xero Official Website for full pricing plan.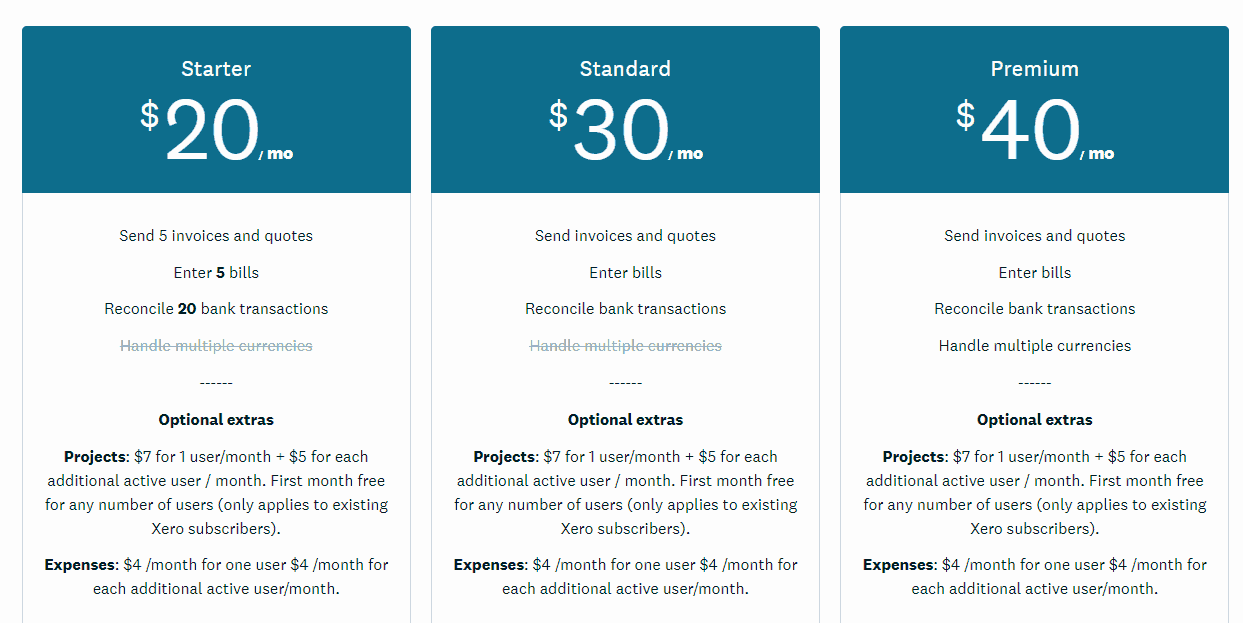 Xero is a cloud-based accounting system that works on your Mac, PC, tablet or phone. Hailed as one of the world's most beautiful accounting solutions on the market today, it has an extremely pleasant and easy to use interface that allows you to stay in touch with your business performance no matter where you are, no matter what time of day it is. Data is stored on secure, remote servers, which means that there is no fear of losing your data if you happen to lose your laptop. When you choose Xero, you can rest assured that your data is in safe hands and is accessible.
When you work with Xero accounting, you have a login which gives you access to your accounts no matter how often you move from your desktop to your tablet and then to your phone. Whenever and wherever you access your data it will be up to date, which means that you really can have your finger on the pulse when it comes to running your business.
But more than that, Xero is set up so you can share access to other team members or your trusted advisors  (like YC Accounting, we are Xero Certified Advisors in Malaysia) and they can see your up to date accounts in real time. Depending on the access level you allow, you may decide that you want others to be able to input data, make notes or simply take a look. With Xero bookkeeping, it's you who calls the shots. When it comes to creating and paying invoices, reconciling bank statements, approving and managing expenses, plus a whole lot more, it really couldn't be simpler. And when you start to use it you will see how easy it makes your life. Created with the ability to integrate with 150 add-on apps, the capability of this accounting tool is second to none.
Xero is certified as compliant with ISO/IEC 27001:2013 which is globally recognized as the premier information security management system (ISMS) standard. Xero achieved certification by developing and implementing a robust security management program, including a comprehensive Information Security Management System (ISMS).
Xero has produced a Service Organization Control (SOC 2) report. The report is the result of an independent auditor's examination of Xero's cloud based accounting system relevant to the Trust Services Criteria for Security, Availability, and Confidentiality.
Xero complies with the Payment Card Industry Data Security Standard (PCI DSS). We're a level 3 merchant and outsource our credit card processing functions to PCI DSS-compliant level 1 service providers. Xero is compliant with PCI DSS v3.2, SAQ A.
For detail security assurance from Xero, please refer to Xero Official Websites for full details.